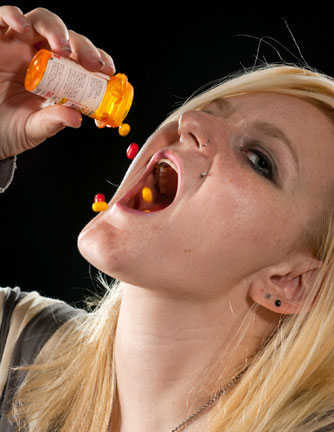 Welcome back. We've missed you, reader. It seems like it has been so long. Please let me know if you're going to be gone for that long next time so I can make sure the plants are always getting watered.
Today, we hear from Valerie of the Dolls, an Outfit skater who isn't aware of the new WFTDA rule allowing slapping (but only if the other person is REALLY MEAN). From the looks of it to the left, this seems like a young lady who really enjoys candy. Maybe she can someday score a sponsorship deal with Mike & Ike or something. In the meantime, can someone please let me know what kind of candy comes in that orange, plastic container she's holding? I spent all last night at the grocery store looking for it, as I really want to pick some up for my kids. Thanks.
On with the questions...



When/how you first got involved with roller derby:
One of my best friends (Hayley Vomit) began playing with the Kansas City Roller Warriors, which initially got me interested in roller derby. My roommate and I heard that there was roller derby in Chicago and she took me to a game. When Haley was telling me about how to play I thought that I wasn't tough enough for derby but as soon as I saw it, I knew I had to play it.
Sports before roller derby:
I played softball and was a cheerleader until my sophomore year in high school until I discovered cynicism, art, and smoking cigarettes. At my undergrad (Savannah College of Art and Design) I attempted to play lacrosse, which turned out to be a comedy of errors because I can't stand to run, and that's basically all you do in lacrosse.
Signature move:
Vomiting at the afterparty, or when I get home, or in my hands, or out the car window, or ALL DAY the next day.
Notable injuries:
I broke my wrist when I was a roller derby referee, but I haven't broken anything since I've been a skater. It seems referees are more in peril!
Best team derby moment:
I loved almost every minute with my team at RollerCon, the laughing, the yelling, the heat and starvation! I was very proud that the challenge bout I put together worked out and was a victory for team CHI OR DIE! However, it was irksome that people didn't know we were a mix of women who have called Chicago our home at some point and thought the "Chi" was pronounced like the Chi that is the natural energy of the universe and not like our abbreviated Chi-Town.
Best personal derby moment:
Winning "Most Improved" at our 2009 season awards. I really worked my butt off last season and it feels really good to know that my teammates noticed.
[Ed. note: Personally, I think the following picture should be up there among her best personal moments]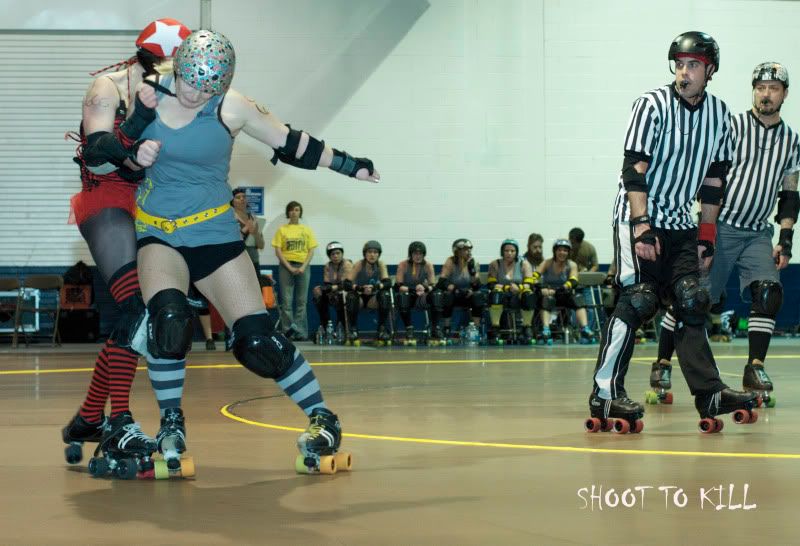 [But maybe it's only because it gives us this.]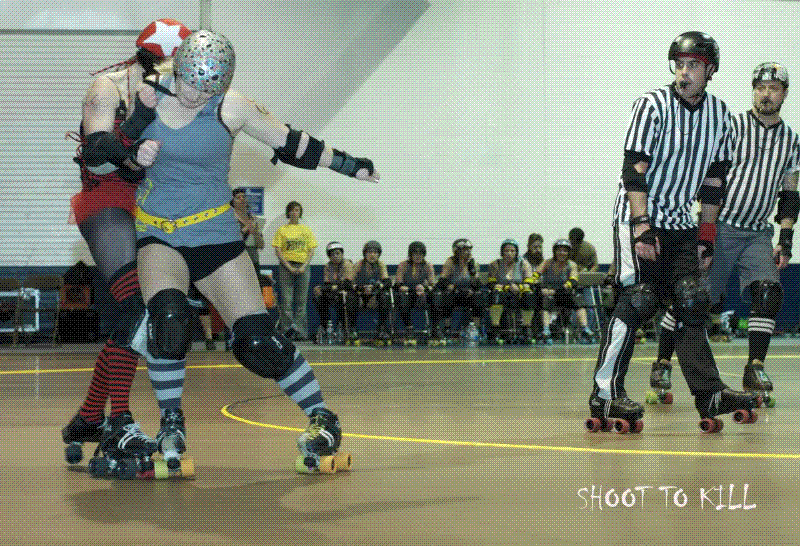 Worst personal derby moment:
When I was slapped in the face during game. I know roller derby is a full-contact sport, but come on people. It's A SPORT! You don't slap someone in the face because you don't like a particular block or something doesn't go your way. It was embarrassing and horrible! It's also very unprofessional and childish and it regresses what the WFTDA and skaters are trying to do for the sport of roller derby.
Number of tattoos:
No tattoos on me! Although I have art that has been tattooed on two different people.
Favorite place in Chicago:
I'm totally not a creepy, goth weird-o, I swear... but I love to wander around Rosehill Cemetery. I still can't find the grave of Bobby Franks! And I don't want any hints—I have to find it on my own.
For Chicago history buffs you will remember Bobby Franks was the innocent victim of the notorius, genius thrill-killers: Leopold and Loeb. If you don't know who they are look them up and learn something today!
Favorite piece of art:
Kentucky Coffin Quilt
Guilty pleasures:
Britney Spears, Third-Wave Ska, The Wigwam Villages (http://www.wigwamvillage.com), PBS Reality shows where people live in different time periods and have to act and live the way they did back then.
Tell us something you probably shouldn't:
I cried when I saw
My Giant
.
Give us some advice:
Everyone deserves a second chance!
Draw yourself in MSPaint: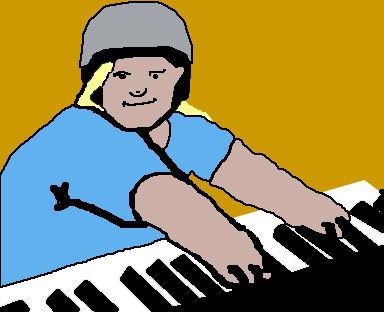 That's our Valerie: always wearin' a helmet outside of derby, always playin' the piano without opposable thumbs, always goin' viral. Classic.
Thanks for the memories, Valerie of the Dolls. Please accept this children's placemat from a
chain restaurant
as a token of our gratitude. Do your best to help the Prime Minister of Burgertown find his way through the Mayonnaise Maze and back to Pickle Parliament!