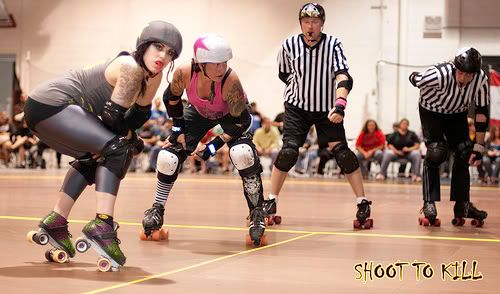 This week, we visit with Lola Blow, one of the most experienced veterans on the Outfit.

Lola shows us she's a good sport by broadcasting her subconscious thoughts on diapers, celiac disease, and pretty much everything we never thought we would ever know about another person.



When/how you first got involved with roller derby:
It was in 2005. Some crazy, hyper girl with red hair that skated for an old league called the Sirens ran up to me while I was somewhere in Logan Square and asked, "Hey, do you skate?" I replied with, "Uh... no... like skateboard?" And she goes, "No roller skate! I play roller derby. You should come check out our practice." She insisted I take a flyer. So I took one, went to a practice, and 4 years and 3 concussions later, I'm still skating!
Sports before roller derby:
I never really stuck with any sports before roller derby, mainly because I was always very small growing up, and for some reason, softball and volleyball coaches didn't think that smaller girls could be as good as those Amazon women. They never really gave me any playtime, although I most certainly didn't suck. I quit and joined roller derby. I showed them idiots.


Signature move:
Sandwiching the opposing jammer with my fellow teammate Smashley. We will both hip check you at the same time, and you'll have nowhere to go but on the floor. I also have a shoulder check that can knock anyone down.


Notable injuries:
Sprained knee, busted lip, three concussions, and a swelbow the size of china. Wanna see?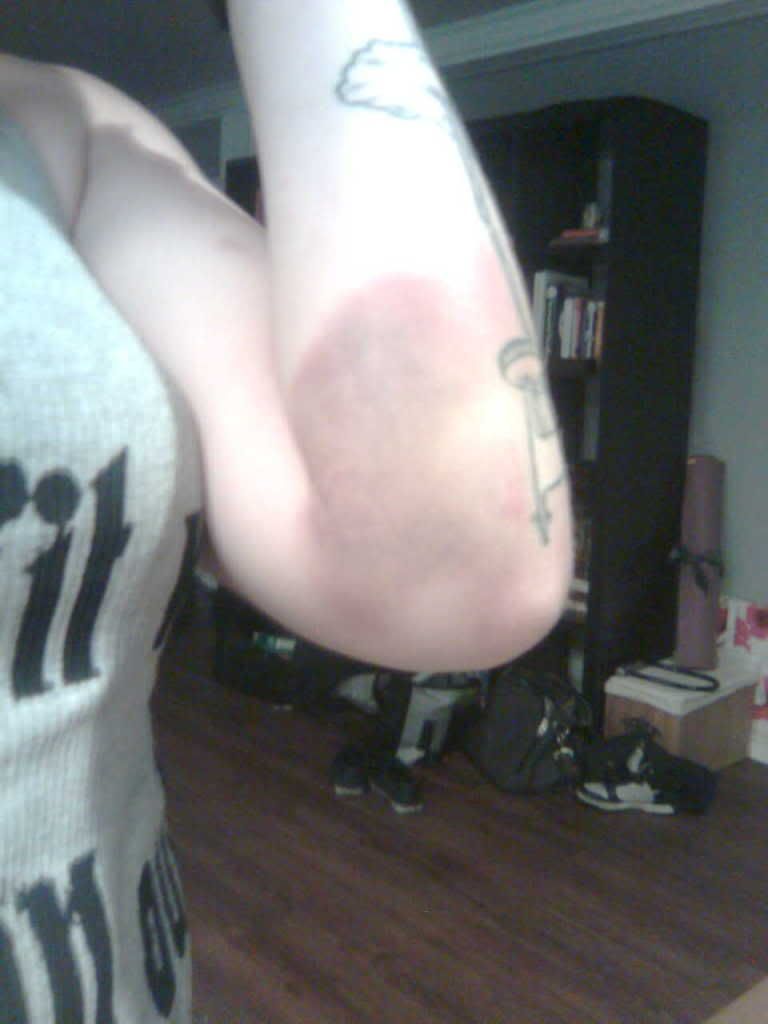 Best team derby moment:
When we won the 2008 Fall brawl Tournament. We left undefeated. I think we all cried tears of happiness together. Then we drank a million drinks of happiness afterward!


Best personal derby moment:
Stealing a sign from a insane Jesus freak with my old teammate and homie Althea N Hell in Vegas after we skated with the Vagine Regime.
[image kinda NSFW

]



Worst personal derby moment:
When I peed my pants during a game from getting hit so hard. Believe it.


Favorite/rival non-Outfit skater:
Mayhemily. I'm always a Renegade at heart.
What you do when you're not skating:
Obsessively research ways to be the strongest derby girl and live forever by taking Chinese herbs and vitamins.



Favorite drink:
Tequila gimlet, with fresh squeezed lime juice please! Oh and I love Kombucha - Ginger flavor.


Music you hate that everyone else likes:
Kings of Leon. They are too damn whiny, but everyone around me loves them.
Favorite song to skate to:
'Dookie Booty' or 'Poison' by Bel Biv DeVoe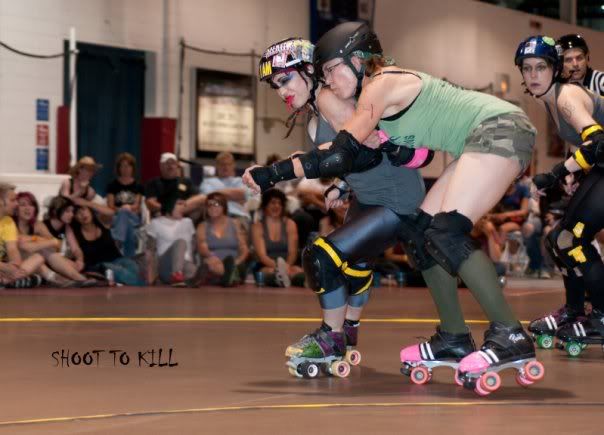 Guilty pleasures:
That song 'Just Throw It in the Bag', and waxing my nose hairs


Give us some advice:
STOP EATING GLUTEN. It's bad for you.

Tell us something you probably shouldn't:
I feel like peeing my pants during the middle of a game could have been kept to myself, but since I did, I'll tell you something else. I stopped shaving my armpits because they started smelling really bad after I would shave them. So now they are hairy...and not smelly! Oh, and I got a staph infection from my kneepads. It's fine now, but seriously... wash your pads all the time. Staph is bad news. I feel much closer with you now, reader.
Finally, draw yourself in MSPaint: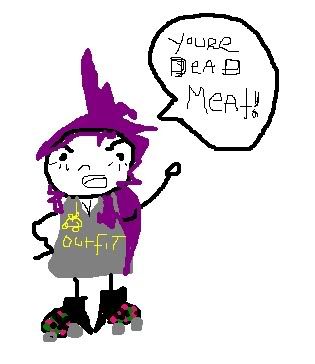 We... appreciate(?) your honesty with everything, Lola.

Come back next week for another skater's entry, hopefully with fewer references to pants peein'. No promises, though.