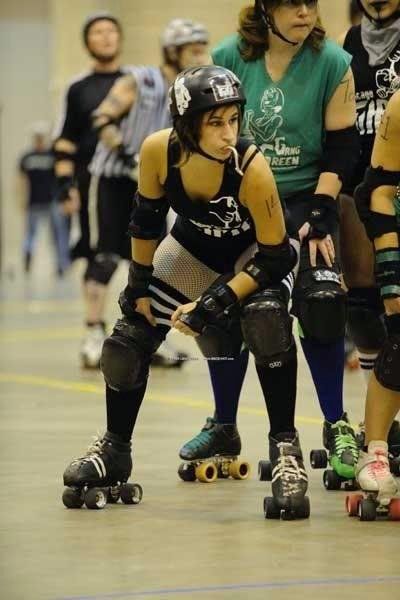 What's that in the sky? It's a bird! It's a plane! No... it's

The Joan Ranger

! Wait... Is her name not supposed to be a reference to Superman? Then I'm not sure I get it. Can someone help me out? Is it Batman?
Regardless of whatever esoteric reference she is going for, The Joan Ranger's background as an English teacher tells me I don't need to proofread her responses for spelling/grammatical errors. Anything you see can be blamed on the schools. Enjoy!
When/how you first got involved with roller derby:
I was at The Whirlaway (a bar in Logan Square) with my friends Dave and Dan having a beer and talking about politics when Mexican Jumping Mean (a now-retired Outfit skater) put up a flier for a fundraiser party. I told her that I had been meaning to check out a bout, and she told me that I should join the team. I ended up going to the party and talking to a few of the girls; I was automatically impressed with the hospitality (especially Smashley's jello shots). My first practice was two weeks later on January 27, 2008. [
In her first response, she already properly uses a semicolon; we might be okay with grammar.
]
Sports before roller derby:
I was a benchwarmer on my grade school's basketball and volleyball teams. I was always the little scrawny kid who worked really hard but was never any good. Right before I joined roller derby, I ran for fun and loosely practiced yoga.
Signature move:
My favorite move is skating "spread eagle." It sounds creepy, but it's not. To do this move, both of my heels face each other, and my toes point in opposite directions. This maneuver allows me to dodge hits or continue to legally block ,with my back, a player who is almost around me.
Notable injuries:
I herniated two disks in my spinal column in May 2009. That is pain I wouldn't wish on my worst enemy! I had to take a dose of steroids to grow the tissue back, and I went through about two months of intense physical therapy. The hard work paid off though because I have virtually no back pain anymore! Shoutouts to John at the Andersonville Athletico!
Best team derby moment:
Winning the 2008 Fall Brawl – the team worked hard for that honor, and the energy was incredible.
Best personal derby moment:
My first bout after my back injury is my top personal derby moment. Both Suzie Crotchrot and I had to miss the first two bouts of the season due to injury, and we were ready for action! At the after party, we both heard countless comments on our ferocity throughout the bout – our desire to win was obvious. In addition to that, I had 20 family members show up to that bout – it was a huge surprise.
Number of tattoos:
Two: a Scrabble piece on my right ankle -the letter J, which is worth 8 points, and a love knot on the back of my right shoulder.
Favorite tattoo:
The love knot is my favorite because it's in memory of my mom. When I was little, she would let me wear her love knot earrings, and I took them in and had a replication done.
What you do when you're not skating:
I am an English teacher, so I am constantly grading. I am also very involved with the school in other ways. I am a congressional debate coach, and I moderate the Pep Club (I get kids to go to sporting events and organize pep rallies). Outside of derby and school, I like to travel when I have the opportunity. Road trip, anyone?
Guilty pleasures:
Late night snacks. Preferably fried and dipped in ranch dressing.
Give us some advice:
Do your homework or else I'm keeping you after school!
Draw yourself in MSPaint: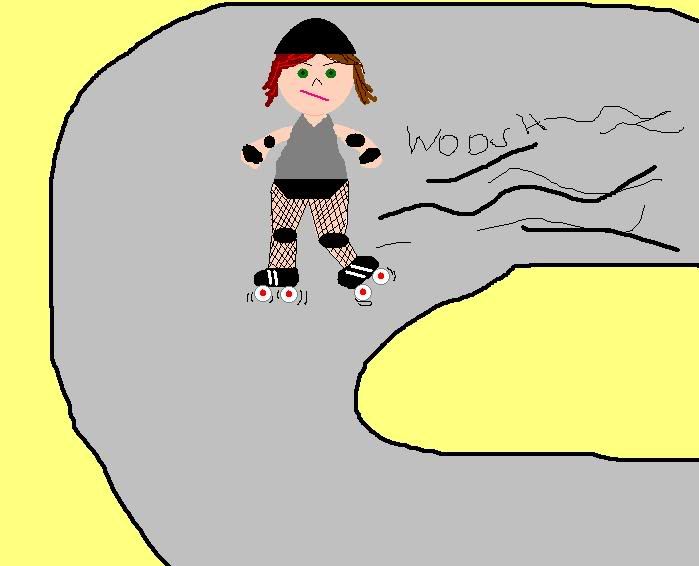 Okay, this MSPaint image leads me to believe her name is a reference to Spider-Man(?). Can someone please confirm/deny this?

Thanks for your time, Joan. We'll call when we have decided on a candidate. Don't call us.