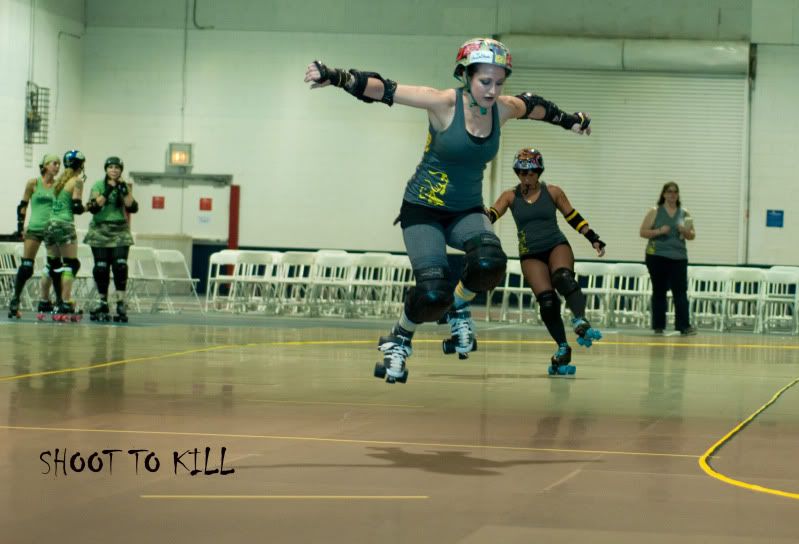 That was some break we had there. I hope you didn't think we were gone for good. The Spotlight shines on and on here at the blog of The Chicago Outfit. In fact, we are just getting warmed up.
Graves is now up to bat (or some other sports metaphor). Standing a mere five feet above the ground, Graves shows us even the smallest among us can topple an opponent with a strong hit (as long is it's to a legal target zone, shorty).
When/how you first got involved with roller derby:
I was handed a flyer for callouts for a previous Chicago roller derby league called the Chi-town Sirens. I was in need of some sort of outlet and camaraderie at the time. I also toyed with the idea of playing roller derby for about a year before then, as well. So I went to the callout by myself. About a month after I started practicing (still on rental skates from Fleetwood Roller Rink), the Chi-town Sirens League was dissolved, and I decided to collaborate with some other former Sirens skaters like Althea N. Hell and Charlenne in Charge to help start the Chicago Outfit. I was a freelance graphic designer at the time, so I poured my heart into creating a brand and image for the Outfit as well as learning to play the awesome sport of roller derby.
Sports before roller derby:
I never really considered myself an athlete growing up. I played softball in elementary school and tried basketball and volleyball in middle school but lacked the competitive confidence to continue in high school. I actually tried out for soccer in high school, but I pulled my hip flexor which was detrimental in the scrimmage tryout. They made me manager and not a player. I said screw that and became president of the art club instead.

Signature move:
I guess what I am known for is getting low. Without skates, I stand at 5'0" (hence my number,
5ft Above
, yo.) I utilize my low center of gravity when the big girls go for a hit. It's my goal to draw an illegal hit or dodge the hit completely when I'm jamming.

Notable injuries:
The only major injury I have had was actually a re-injury from a broken cuneiform bone (one of the square bones) in my left foot. I snapped it when I was 16 after hopping a fence running from the police. Luckily, I had Doc Martin's on at the time or it probably could have been worse.
I was at the bottom of a pile up during scrimmage practice when it was tweaked wrong again. I was only off skates for 2 weeks during this re-injury, but am pretty sure it will bother me the rest of my life. Stretching and especially Bikram Yoga have helped me tremendously.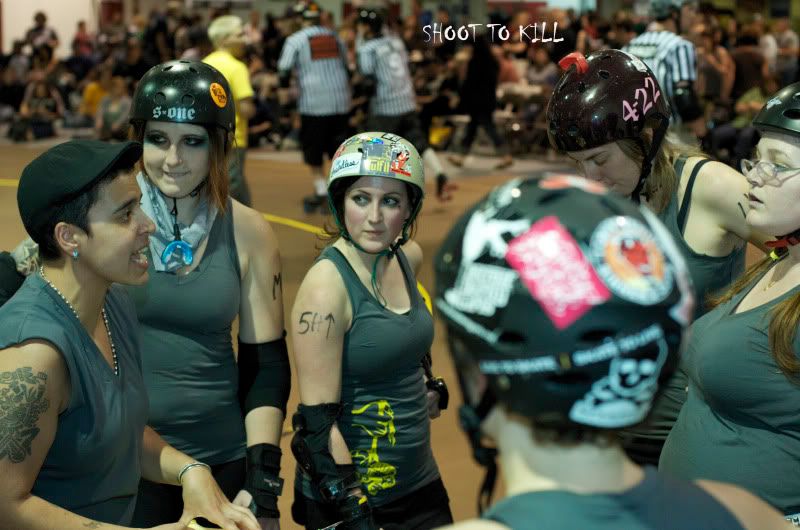 Best team derby moment:
I think the best moment for the Outfit for the 2009 season would have to be our moment of winning the last bout of our home season [
to finish undefeated
]. It was sort of anti-climatic when the last bout was over. I think we all know that we are that much closer to playing more
WFTDA
teams that will be of our same caliber.


Best personal derby moment:
There are a few solid hits that made the crowd roar during this past season. Those always feel great. First thing that comes to mind that I can think of was during our most recent expo bout in October, 2009. Helsa Wayton gave me an awesome whip while I was jamming. Sweet Mary Pain was an opposing blocker (usually a power jammer), and she went for the kill cutting across the track in an almost 90 degree hit, but the whip from Helsa was so perfect that I gracefully dodged Sweet as she went flying out of bounds.

Worst personal derby moment:
My worst personal moment was probably the very first bout I had ever played. I hadn't even scrimmaged yet or knew the game whatsoever. It was with my former league, the Sirens, and the expo was outside on North Avenue Beach. I was running late, hungover, starving, and didn't get all the soap out of my water bottle before I filled it and ran out the door. I just remember La Femme Nikita yelling at me to "HIT HER!!!!" when all I was trying to do was stay on my skates.

Favorite/rival non-Outfit skater:
I have to say the person that stands out the most was a chick from TXRD, Moco Loco, whom I met at RollerCon, Vegas, 2008. We met on the bus on the way to the challenge bouts. She wanted one of the buttons of my face that Shoot To Kill, the Outfit photographer, made. "That's my face!" became a total inside joke that the Outfit still says.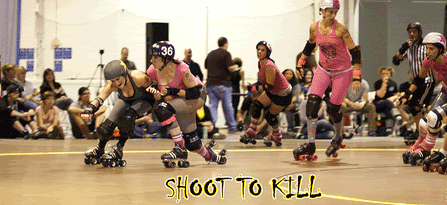 Number of tattoos:
I have two tattoos, both pretty subtle. One is on the inside of my left ankle of a butterfly the size of a dime that I got when I was 17 on a high school trip to Mexico. The other is abstract lines that spell out the word 'real' on the inside of my left arm that is only a year old.


Still-to-come tattoos:
Maybe in another 11 years.
What you do when you're not skating:
I am in my first semester of working on an MFA degree in the Interdisciplinary Arts and Media program at Columbia College, Chicago. I am also a freelance Photoshop Retoucher and assistant to Chicago artist, Jason Salavon. (
www.salavon.com
)
Favorite place in Chicago:
I'm not a regular at any particular restaurant or bar but I have always loved the Empty Bottle for small music venues since I moved to Chicago 5 years ago. Now I live a block away and also met my current beau there.
Guilty pleasures:
Mixing my food together and Justin Timberlake.
Tell us something you probably shouldn't:
I bring up derby in conversations when I get bored and want attention.


Give us some advice:
Life is easier if you keep it real.
Draw yourself in MSPaint: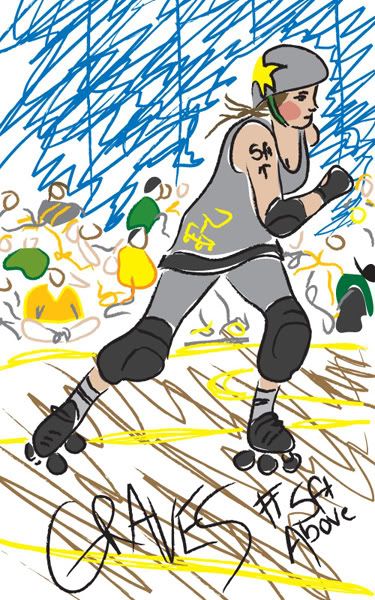 Graves sets new bar is set in MSPaint submissions. Take note, everyone else.
The Spotlight is making it kind of hot in here, so someone had better crank that AC. We got a lot more to go.