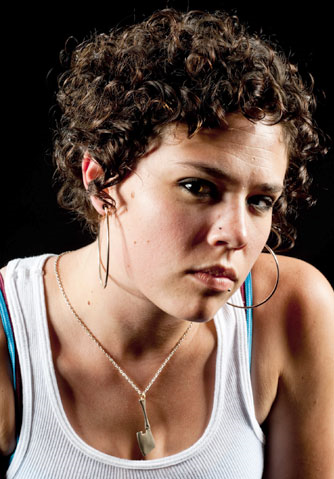 Here at the
Spotlight
, we are always looking for the best deals. But in this crazy marketplace, how can we know when we are getting a good deal and when we are getting a good deal... of BALONEY?

Back in the day, we would wander around the mall. There is no need to do our shopping at the mall anymore, though, because we have Maul E. Hatchet with us today. She is home to five electronics stores, three cinnamon bun stands, and two toy stores. I hear she might even get an indoor roller coaster soon.
Winter is about to end, so we need to go look for the finest in spring fashion.


When/how you first got involved with
roller derby
:
Well, I was born with skates on, but it took me until February of 2008 to find The Chicago Outfit. Elsey U. Suffer brought me to my first practice, and I knew this is where I belonged and that this was family.
Sports before roller derby:
Water polo, swim team, soccer, and track.
Signature move
:
If you don't know, we need to have a chat. It's the booty clap, but really putting my booty right in your lap or water falling you to the outside with Gaygan or Lola.
Notable injuries:
Right thigh dent; permanent muscle damage.
Wanna see?
[
No.
]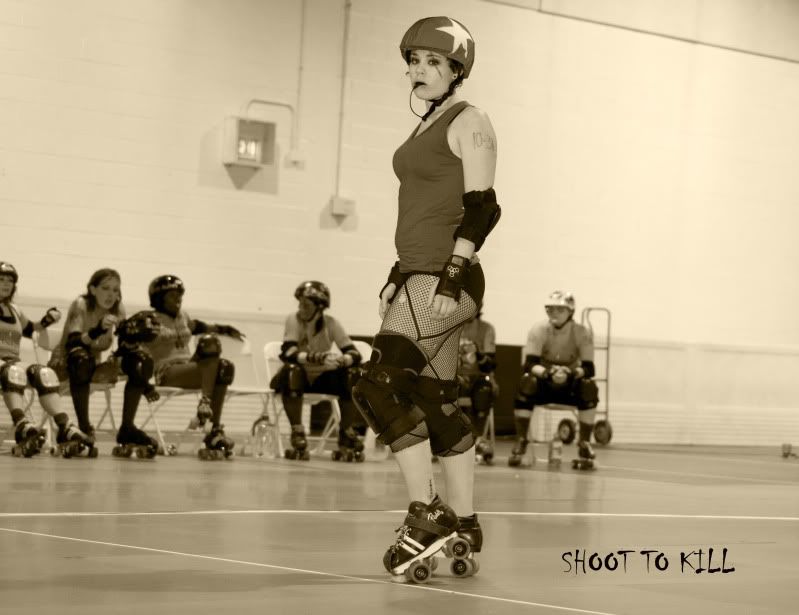 Best team derby moment:
Crushing every team at Fall Brawl II in 2008.
Best personal derby moment:
When I finally fell in love with blocking. I still want to jam, but how I love to whoop some ass in the pack.
Worst personal derby moment:
When I got so pissed at a scrimmage I took off and threw my helmet across our practice space. That was the one and only time.
Favorite/rival non-Outfit skater:
Felony Friendly from Angel City Derby Girls and Rebel Rock-it from Toronto Roller Derby, Her hips are about the height halfway up my ribcage. She's a wicked skater and a damn fun girl to party with.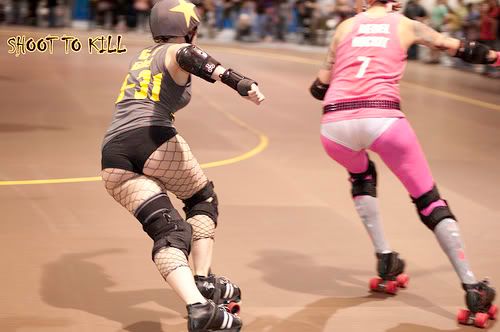 Favorite tattoo:
My side piece, a tribute to my mother.
What you do when you're not skating:
You mean there's something to do other than skate? Well, I guess I do have to take time to work on that booty clap and make sure that it's perfect. That and yoga and acupuncture (my new obsession).
Favorite place in
Chicago
:
Boystown! Who doesn't like to be surrounded by rainbows?
Music you hate that everyone else likes:
Katy Perry? Is she still popular? That stupid 'I Kissed a Girl' song makes me so angry
Favorite Derby Photographer:
Duh!
Shoot To Kill
Guilty pleasures
:
Dance competition shows like 'So You Think You Can Dance' and 'America's Best Dance Crew.'
Tell us something you probably shouldn't:
I love it when people hit hard in a pack. Nothing gets me more in the mood to play derby than knowing it's gonna be a tough, hard-hitting pack.
Give us some advice:
Remember no matter what crazy stuff happens on your league, your team is your family, and they'll always be there for you no matter what.
Finally, draw yourself in MSPaint
: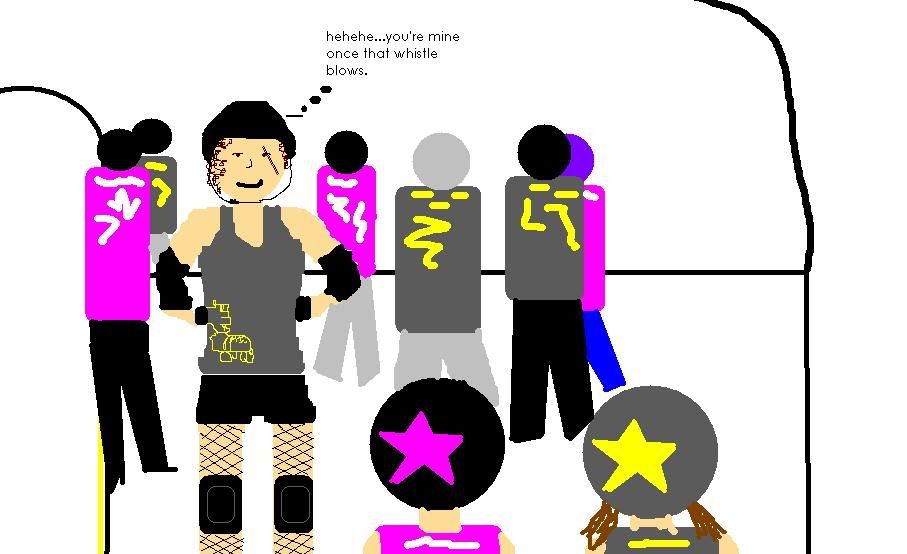 Click to enlarge.

Thanks for letting us visit you today, Maul. I was able to pick up some really nice shirts and slacks. While I did find a bandage on the slice of pizza I got at the food court, it still tasted okay.

Join us again soon for another
Spotlight
, where we can do our shopping ONLINE, not IN LINE!