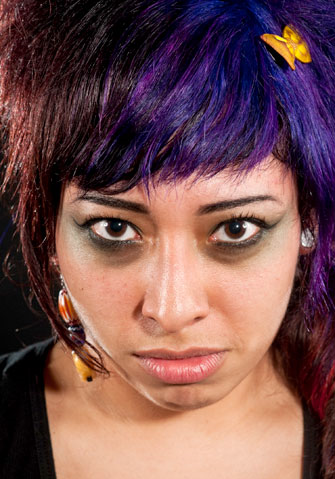 You couldn't tell it from the name, but Suzie Crotchrot is probably the unofficial "jokester" of the Chicago Outfit. What a crazy character THIS one is!
If she ain't crackin' bones, she's crackin' wise! Oh ho ho ho!
If she ain't splittin' heads, she's splittin' sides! Hee hee hee
hee!
When the penalty box timer tells her to stand, she takes that as a cue to do standup comedy! Ah ha ha ha!
When she's told to go out and jam, she breaks out a guitar and plays Van Halen! Heh heh heh heh!
She tells jokes! [chokes on own saliva]

Anyway, this
Spotlight
works best if you play each YouTube clip as it comes up. Enjoy the comedy, everyone.
[slips on banana peel; falls into bottomless pit]
Sports before roller derby:
Long Distance Projectile Puking, reigning champ since '94.
Signature move:
My signature move is hitting on your younger brother when you aren't looking.
Notable injuries:
My only notable injury was "messing up my knee." I still don't know exactly what happened to it, but the S.O.B. took me out for a majority of the season. Not being able to bout and practice with my ladies was a sad feeling. With that said, I fell so hard on my butt that I got this crack in it now. Can this be fixed?
Best team derby moment:
SWEEPING the Fall Brawl 2008 Non-WFTDA bracket. When the Outfit first joined up in late 2007 they got together the few girls they had, scribbled Chicago Outfit on whatever white shirts they had and signed up to play the Fall Brawl '07 and were eliminated in the very first round. When we were invited back to the tournament in 2008, it was a COMPLETELY different story. The league had been working really hard and bouting some solid teams that season. All we really wanted to do was just play hard and do the damn thing. We came in as a force and wanted to show the derby world that we meant some serious fucking business, and we did. There's an epic group picture of us when we received our trophy and everyone just looks so happy.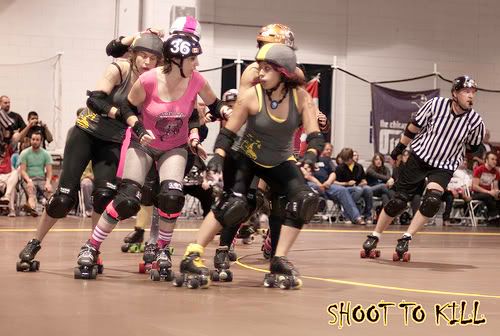 Best personal derby moment:
When I received the Rookie of the Year 2008 award. I had no idea that I would even be considered for that and was completely floored when I heard my name get called. Very honorable mention goes to all derby road trips in Chico or Sweet's car where we laughed the hardest and shared the best stories.
Favorite/rival non-Outfit skater:
Ying O Fire and Hoosier Mama of WCR, Maura Buse of the Boston Derby Dames
Number of tattoos:
I have 7 tattoos, with plenty more on their way. Sorry, mom! At least I'm not bleaching my hair blonde?
What you do when you're not skating:
Flirting with you and taking your tips at New Wave Coffee; preparing for the Zombie apocalypse.
Favorite place in Chicago:
(1) The Orbit Room. Ali the bartender is the best!!! (2) Irazu, for delicious Costa Rican food on the cheap. (3) Quimby's Book Store, for sweet books and zines. (4) Anywhere Dj Zebo spins for funfunsuperhappy dancepartytime.
Favorite drink:
The blood of infants, chilled, in a highball glass.
Movie you hate that everyone else likes:
The
Saw
series. What are they up to now? 6? How did that even happen?! I'll seriously judge you if you say that's one of your favorite movies. Honorable mention also goes to
Twilight
. (Sorry, Smashley.)
Favorite article of clothing:
I am a t-shirt queen. Every time I go out of town or out in general, I will go out of my way to find a shop with some neat t-shirts to add to the arsenal. Horror/roller derby/local band shirts run my collection for the most part. My favorite out of those has to be my Return of the Living Dead t-shirt with reworked cover art that has "Do You Wanna Party? It's Party Time" printed on the front and the sleeves cut off. I hate sleeves. I will cut the sleeves off of every damn shirt I have!
Guilty pleasures:
Picking my nose, popping zits, looking up videos of French Bulldog puppies doing cute things.
Tell us something you probably shouldn't:
I can be sweet. Don't go expecting it, though!
Give us some advice:
Eat two raw cloves of garlic before you go to bed and after you wake up to make your cold ease up. I SWEAR IT WORKS.
Draw yourself in MSPaint: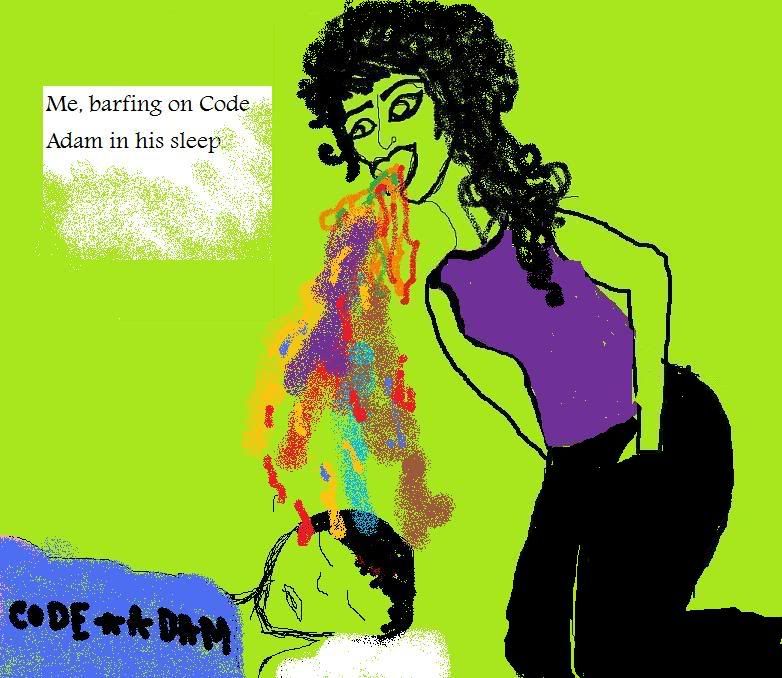 And that's all she wrote... literally! These are the jokes, folks!
[gets hooked offstage]