Ah, the offseason. We can't watch them skate, so it's time to get to learn a little bit more about our skaters.
In our first installment of
Spotlight On...
, we meet with Smashley "The Spaniard" Destructo and let her go nuts with material that might come back to haunt her several decades down the line.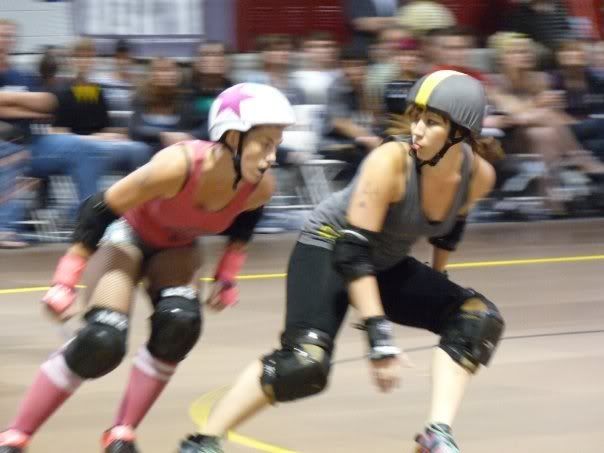 When/how you first got involved with roller derby:
In April of 2007, I went to a [
former Chicago roller derby league
] Sirens bout at Lynwood Skating Rink. I instantly fell in love with roller derby and knew it had to become my life. I emailed the Sirens the following day to find out how I could get involved with the league.
Sports before roller derby:
Softball, horseback riding, and kickboxing
Signature move:
Anything with my ass ... hahaha, they don't call me 'Smassley' for nothing. But I would call my signature move "The Stunner." Your chest should never come in contact with my shoulder because you may think you're having an asthma attack.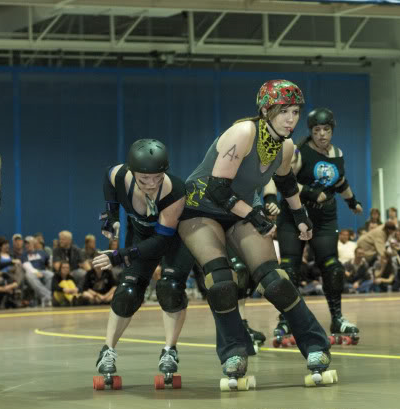 Notable injuries:
I've been lucky in the injury department. Six months after I started derby, I fell pretty badly from the pivot, Perky Set. My knee was injured and I had to go on sabbatical for 2 months. Besides that ... just bruises, some have been in places that they don't belong.
Best team derby moment:
Both Fall Brawls that The Chicago Outfit attended. In the fall of '07, we lost every bout we played but our bonding was miraculous and our partying was even better. It was even sweeter when we came back the next year and won the tournament by being undefeated.
Best personal derby moment:
When derby finally made sense to me and I didn't have that confused sensation any more. It was an 'Ahh Ha!' moment.
Worst personal derby moment:
Playing against
Rockford Rage
in our first season. I was jamming full speed through the pack with I received an elbow to my sternum and it knocked me out cold. I blacked out and then began hyperventilating. It was super embarrassing.
Favorite/rival non-Outfit skater:
Tin Lizzy
from North Star Roller Girls... all I have to say is BAD ASS
Number of tattoos:
Five, not including the cover up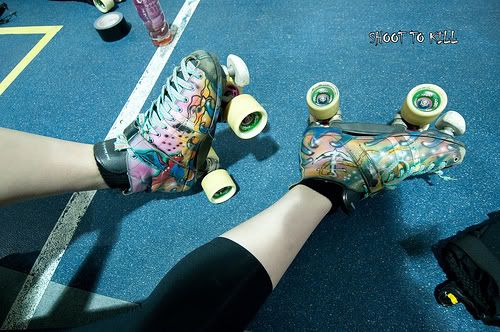 What you do when you're not skating:
You thought the girls on the track are hard... nothing
compared
to my first graders. I live a life of juggling my career as a first grade teacher, getting my masters as a reading specialist, and playing roller derby for The Chicago Outfit.
Favorite place in Chicago:
I really enjoy going to New Wave Cafe (a great place to grade papers) and spending my Sunday mornings at the Farmer's Market with Suzie Crotchrot.
Food/movie/music you hate that everyone else likes:
Vegetables/Dogma/Bjork
Guilty pleasures:
Books about vampires. What can I say? It's sexy.
Tell us something you probably shouldn't:
I just did.
Give us some advice:
"For every negative, give three positives."
Finally, draw yourself in MSPaint: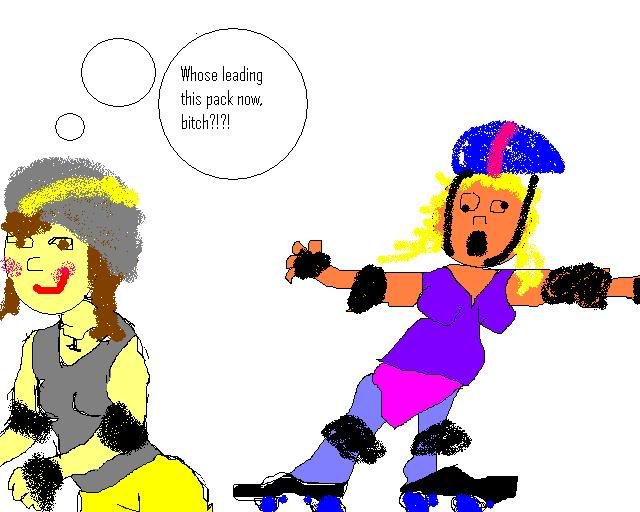 (click to enlarge)
Stay tuned for more in the coming weeks, folks!